This historic suite is as named after the Buffalo Bill's youngest daughter who was an excellent horsewoman and violinist with a spirted attitude. She was a woman beyond her time who grew up living at the foothills of Yellowstone National Park. This room is located on the second floor with extraordinary views of downtown Cody, lavish historic furnishings, a sitting area, full closet with a roll away bed. Along with a queen size bed accommodating two guests with the option for more.
Bed: One Queen Bed
Occupancy: 2 people
Location: 2nd floor
Views: Downtown Cody
Historical Facts about Room 16 – Irma Suite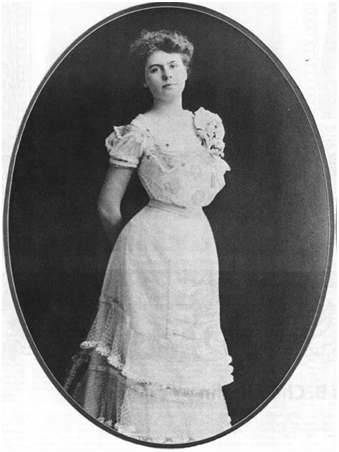 THE IRMA was named for Buffalo Bill's youngest daughter, Irma Louise Cody, born February 9, 1883 in North Platte, Nebraska.
In 1903, Irma married Lt. Clarence Stott. Death claimed her husband in 1906 after only three years of marriage.
In 1908 she married again to Frederick H. Garlow from Omaha, Nebraska. She had three children from this marriage: Jane, born in 1909; Fred, born in 1911; and Bill, born in 1913. All were born in North Platte.
Irma was known to be an excellent horsewoman and quite high spirited. Stories are told of her driving a horse team at full gallop down the center of North Platte on her way to pick up guests for the ranch. She played the violin and loved amateur theatrics.
Fred managed Scout's Rest Ranch until 1914, and from 1915 until his death managed the Irma.
Irma died on October 15, 1918, a victim of the flu epidemic, and her husband, Fred, died three days later.
They are interred in the Riverside Cemetery in Cody, Irma being the only Cody child not buried in Rochester, New York.