This historic suite is as named after Park County's very first sheriff who conducted law enforcement on horseback like a true cowboy. This room is located on the second floor, this suite offers enough room for the whole family, lavish historic furnishings like a clawfoot bathtub, and extraordinary views of downtown Cody with countless windows. The suite has a queen size bed in its own area, as well as two single beds accommodating four guests; making this room one of the best in the Yellowstone area.
Bed: One Queen Bed and Two Singles
Occupancy: 4 people
Location: 2nd floor
Views: 12th Street
Historical Facts about Room 31 – Henry Dahlem
First Sheriff of Park County
Henry Dahlem was a quiet man. Quiet in the old way; like a strong and silent hero of a Wister novel or the early Western films. Quiet but with a great deal beneath that mask the first sheriff of Park County seemed to wear.
What went on in his life is soon read, without the descriptive setting or imagined dialogue. Born, says the record, Sept. 18, 1872, to John and Helma Wendt Dahlem near Clatonia, Nebraska. From there, the family moved to Oklahoma City in 1891.
The Dahlems were there in time for the run on the Cherokee Strip. Henry, of course, couldn't hold a claim as he was two days too young. He went to business school in Oklahoma City, then started north in 1895 where he worked in the gold mines at Cripple Creek, Colorado.
He followed the trail to Montana, where he went with three other boys. They stopped at the Diamond Ranch, then spent the winter in Wheatland, Wyoming.
There were 3,000 people in Billings, Montana, when he landed there and went on to homestead near Red Lodge.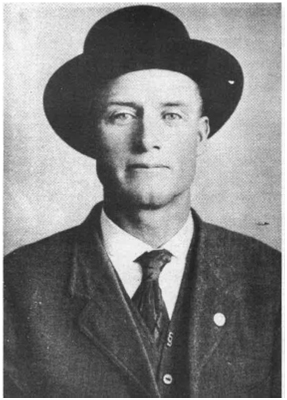 From there it was a short jump to Cody, where he ended up in 1903. Here he worked with Tex Holm and Fred Welch for the Holm Transportation Company which ran summer trips through Yellowstone Park. He also drove a coach and four horse team between Cody and Shoshone Dam transporting workers, visitors, officials, etc. After the Shoshone Canyon road was completed, he took the first tourist through.
Dahlem married Bertha Simpers in Rockport, Indiana, in 1911. That same year he became the first sheriff of the newly organized Park County; so he moved his bride into the sheriff's quarters in 1912. His daughter, Mrs. Roy Day, was born there. As sheriff he pursued horse thieves and cattle rustlers on horseback. There were only three cars in Cody at that time.
In 1915, the family moved to Sage Creek, where their first son, Clarence, was added to the roll. He operated a farm on Sage Creek, a sawmill on North Fork and a ranch which became Shoshone Lodge, now a dude ranch. A second son, Harry, was born in Billings, Montana.
From 1925 to 1926 Dahlem completed Bill Loomis' term as sheriff. In 1926 he moved his family to town, but kept the North Fork ranch.
His story ended on Nov. 16, 1952, but the family he founded here went on. We cannot leave it without a tribute to Bertha Dahlem, who carried on with that family and lived to enjoy her grandchildren.
Bertha was a charter member of the Cody Music Pub and an active participant in its programs. She had great talent as a whistler, an accomplishment not generally possessed by a woman. When this very serious and hard­working mother and business woman pursed her lips and began to whistle she enchanted the listener and a new facet of her personality was revealed.
A toast to Henry and Bertha Dahlem! May there me more like them, to work as hard and, like Bertha, to whistle while they work!
Henry Dahlem was the first sheriff of Park County, Wyoming, the county around Cody. His term started in 1911.
Henry Dahlem was the first sheriff of Park County, Wyoming, the county around Cody. His term started in 1911.